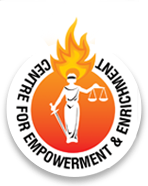 What we do
Centre for empowerment and enrichment is an Indian non- government organization that aims to catalyze positive change movements in our society. It is a platform that empowers each of us to take lead and initiate a positive change by creating sustainable communities.Our first and basic aim is to enable the disabled; we stand for the disabled community. CEFEE tries to restore basic rights of underprivileged through a collective and multi- pronged approach. Spearheaded by a team of like-minded volunteers from different backgrounds, it's one Centre that connects each of us on a collective endeavor for empowerment and enrichment of the underprivileged.

We believe our role is to be a connecting point for believers and of change. To be a facilitator and enabler that fosters and support participation of people from every segment of society, who believe in the empowerment and enrichment of under privileged.We are for change.

A change that will bring in betterment in the lives of underprivileged. A change that will strive to initiate equality in a differentiated society. A change that will bring many minds into action for causes that need consistent care and cure. We are CEFEE - Centre for Empowerment & Enrichment.